The Amazing Chan and the Chan Clan
Talk

0
2,196pages on
this wiki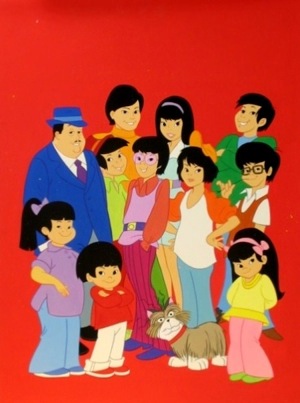 The Amazing Chan and the Chan Clan was a series produced by Hanna -Barbera for CBS in 1972, loosely based on the character of Charlie Chan.
Premise
Much like Scooby-Doo, the series features the characters visting someplace in the world, and getting wrapped up in a mystery. One of the people at the location is usually suspected by the Chan kids for commiting a crime that happened at the area, and the kids split into three groups, following their respective suspects. Ususally, none of their suspects is the perpetator of the crime, and Charlie Chan reveals who really did the deed.
The Chans
Mr. Charlie ("The Amazing") Chan: Famous detective and widowed or divorced father of ten. Dressed in a blue suit, tie and fedora hat. Often finds whatever case-solving clues his children may have overlooked.
Henry Chan: The oldest Chan kid, Henry is usually paired with his younger brother Stanley, and is easily annoyed by Stanley's antics.
Stanley Chan: The second oldest, Stanley is a goofball master of disguise. He never takes anything seriously, much to Henry's chargin.
Suzie Chan: The pretty girly-girl of the group, resembling Daphne Blake, and oldest mid-teen.
Alan Chan: The second oldest mid-teen, and the inventor of the Chan Van.
Anne Chan: The third oldest mid-teen and a tomboy. Voiced by Jodie Foster.
Tom Chan: The youngest mid-teen, and the most intellectual of the kids. Dresses like a sterotypical nerd.
Flip Chan: The oldest preteen, has a bad habit of jumping to conclusions. Is very willing to help his father.
Nancy Chan: The second oldest preteen, slightly chunky, and really clumsly.
Mimi Chan: The second youngest, and the bossiest, normally to Scooter.
Scooter Chan: The youngest, and the most impulsive. Doesn't like taking orders from Mimi.
Episodes