The Amazing Chan and the Chan Clan
Talk

0
2,231pages on
this wiki
The Amazing Chan and the Chan Clan
Writer(s)
Dennis Marks
Voices of
(See article)
Country of origin
United States
No. of seasons
1
No. of episodes
16
Production Information
Producer(s)
William Hanna, Joseph Barbera
Running time
22 minutes
Production company(s)
Hanna-Barbera.
Broadcast
Original channel
CBS
Picture format
Color
Chronology
The Amazing Chan and the Chan Clan (sometimes abbreviated as The Amazing Chan Clan) was a series co-produced by Hanna-Barbera and Australia's Eric Porter Studios for CBS in 1972, loosely based on the character of Charlie Chan. Like many other Hanna-Barbera cartoons of the seventies, The Amazing Chan Clan follows a similiar format to Scooby-Doo, Where Are You!'s.
Premise
In this series, the chinese detective Mr. Chan (whose first name is never given, except in one episode's title), travel around the world along his ten children and their dog Chu Chu (perhaps a Pekinese/Shih-tzu mix?) which helped him solving mysteries (or at least trying to) in each episode.
They traveled in the Chan Van, created by Chan's fourth son, Alan, the mechanical genius of the family, which could be transformed into other vehicles (much like Hong Kong Phooey's Phooeymobile) with the push of a button.
The older children also had their own music group, The Chan Clan; every episode featured a song, either being played over the action or with the characters playing various instruments and performing; in any episode which features the group playing, the same animation sequence is used. Vocals for the group were provided by former Archies lead singer Ron Dante, with music supervision by Don Kirshner.
(It may be safe to suggest that the Mr. Chan character has some similarities in appearence to the Charlie Chan character as portrayed by Warner Oland for Fox Films in the 1930's; witness the episode entitled "Will The Real Charlie Chan Please Stand Up?")
Voice cast
Most of the voices of the children were recast almost immediately, as it was deemed that their original thick accents would be too confusing for young viewers to understand. With the new cast in place, old episodes were re-dubbed using the new voices.
Original voice Cast
Re dubbed voice Cast
The Chans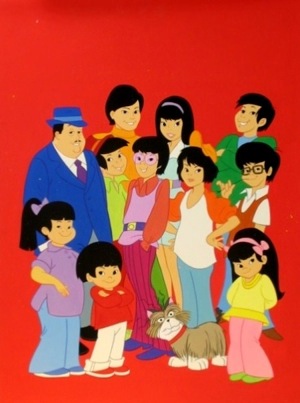 Episodes