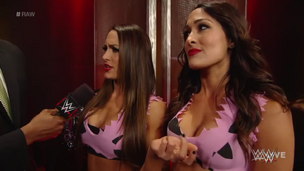 Brianna Monique Danielson (née Garcia-Colace) and Stephanie Nicole Garcia-Colace (born November 21, 1983) are American twin models, actresses, and professional wrestlers currently signed to WWE. The twins are a professional wrestling tag team under the ring names Brie Bella and Nikki Bella respectively, collectively referred to as the Bella Twins.
They are both former WWE Divas Champions, with Nikki's second reign of 301 days being the longest in the title's history. In November 2015, Nikki was ranked 1 in Pro Wrestling Illustrated's Female 50 in 2015.
Ad blocker interference detected!
Wikia is a free-to-use site that makes money from advertising. We have a modified experience for viewers using ad blockers

Wikia is not accessible if you've made further modifications. Remove the custom ad blocker rule(s) and the page will load as expected.