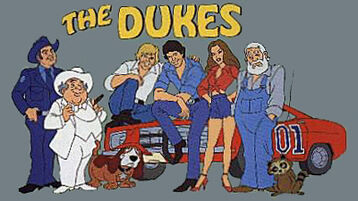 The Dukes is Hanna-Barbera's Saturday-morning cartoon based on the prime-time series The Dukes of Hazzard. Both series aired on CBS. The actors from the prime-time series reprised their roles in the cartoon.
The launch of the cartoon series was delayed until February 5, 1983 possibly due to the 1982 Animators Strike. It could be inferred that very few episodes were produced or not produced at all when the strike started, which didn't justify a September 1982 launch.
Premise
The show features the Duke boys and their cousin Daisy in an automobile race around the world against Boss Hogg, Sheriff Roscoe P. Coltrane, and Roscoe's dog Flash in a duel for the prize money, which the Dukes hope to use to keep the family farm from being foreclosed by Boss Hogg. Actually, Boss Hogg wants the money and the land for himself, so he, Roscoe and Flash plan various schemes to keep the Dukes from winning. Most of the adventures are read from a postcard by Uncle Jesse Duke to his pet raccoon, Smokey.
The first season was produced when the live-action show replaced the original actors with similar characters, Coy and Vance Duke, after the actors playing Bo and Luke walked out over a dispute about royalties. Thus, the first season of this animated series featured Coy and Vance. Bo and Luke eventually returned in the second-season premiere, "Boss O'Hogg and the Little People". This episode also featured a new introduction and opening narration that reflected the change in characters.
The series followed no particular logical geographic path. Another inconsistency was that in The Dukes of Hazzard, Bo and Luke were on probation, implying that they (but not Coy or Vance) could not leave the state of Georgia, much less the United States.
Voice cast
Episodes
Season 1
Put Up Your Dukes!
Jungle Jitters
The Dukes of Venice
Morocco Bound
The Secret Satellite
The Dukes of London
The Greece Fleece
The Dukes in India
The Dukes in Uzbekistan
The Dukes in Hong Kong
The Dukes in Scotland
The Dukes Do Paris
The Dukes in Switzerland
Season 2
Boss O'Hogg and the Little People
Tales of the Vienna Hoods
The Kid from Madrid
A Dickens of a Christmas
The Canadian Caper
The Dukes in Hollywood
A Hogg in the Foggy Bogg
Home media releases
On December 7, 2010, Warner Archive released The Dukes: The Complete Series on DVD in region 1 as part of its Hanna–Barbera Classics Collection. This is a Manufacture-on-Demand (MOD) release, available exclusively through Warner Bros.' online store and Amazon.
External links
Ad blocker interference detected!
Wikia is a free-to-use site that makes money from advertising. We have a modified experience for viewers using ad blockers

Wikia is not accessible if you've made further modifications. Remove the custom ad blocker rule(s) and the page will load as expected.