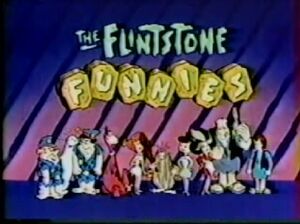 The Flintstone Funnies is an animated 90-minute omnibus series produced in 1980 by Hanna-Barbera for NBC. Its alternate titles include The Flintstone Comedy Show (to be disambiguated from The Flintstone Comedy Hour, which ran on CBS) and The Flintstone Frolics. It ran for two seasons, from 1980 to 1982.
A series of gags, educational spots, games, drawing lessons and a dance of the week were featured among the six segments every week. In 1982, reruns of the show were repackaged for two seasons under the title The Flintstone Funnies. Reruns of Dino and Cavemouse aired on the Disney Channel reruns of Wake, Rattle & Roll.
Segments
The Bedrock Cops: Fred Flintstone, Barney Rubble and the Shmoo are part-time police officers in Bedrock. More often than not, they chased the Frankenstones' ravenous pet, Rockjaw.
Captain Caveman: In this spoof of the 1950s Adventures of Superman TV series, Captain Caveman protects reporters Wilma Flintstone and Betty Rubble.
Dino and Cavemouse; Dino stars in this Tom and Jerry-style chase cartoon, supervised by Tex Avery. Two Dino and Cavemouse segments appeared in each installment.
Flintstone Family Adventures: This segment most resembled the original prime-time Flintstones series, despite running only about 10 minutes in each installment.
The Frankenstones: Fred and Wilma's other neighbors, this family is influenced about equally by The Addams Family and The Munsters.
Pebbles, Dino and Bamm-Bamm: Teenage Pebbles Flintstone and Bamm-Bamm Rubble solve mysteries in the vein of Scooby-Doo. Their friends from The Pebbles and Bamm-Bamm Show make guest appearances.
Voice cast
External links
Ad blocker interference detected!
Wikia is a free-to-use site that makes money from advertising. We have a modified experience for viewers using ad blockers

Wikia is not accessible if you've made further modifications. Remove the custom ad blocker rule(s) and the page will load as expected.