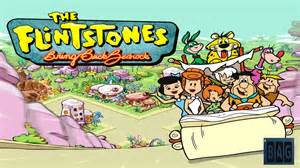 The Flintstones: Bring Back Bedrock is a game app for iOS, published by Ludia.
Overview
The town of Bedrock has been ravaged by meteorites, and the player must help Fred Flintstone and Barney Rubble rebuild. The player can customize the Flintstones' home, room by room, with various furnishings and decorations, as well as dozens of animal appliances, called Gizmosaurs.
The player can also rebuild Bedrock one district at a time, by using city Gizmosaurs to remove meteors, water dry patches and reconstruct 50 of Bedrock's iconic locations, such as the drive-in theater and bowling alley.
Ad blocker interference detected!
Wikia is a free-to-use site that makes money from advertising. We have a modified experience for viewers using ad blockers

Wikia is not accessible if you've made further modifications. Remove the custom ad blocker rule(s) and the page will load as expected.