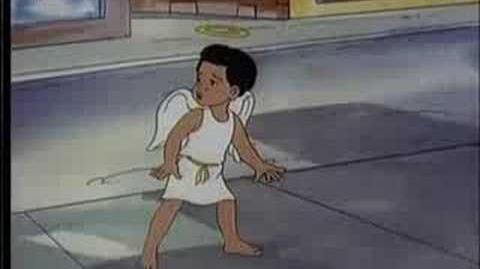 The Gary Coleman Show
was a Saturday morning cartoon produced by Hanna-Barbera for
NBC
in 1982. It was based on Coleman's telefilm
The Kid with the Broken Halo
. Each half-hour episode aired on NBC had opening narration by
Casey Kasem
and consisted of two 11-minute stories. Casey's voice was not heard in the syndicated reruns, which could imply that Casey's voice was only added by NBC over the original network masters.
Overview
Coleman lent his likeness and voice to Andy LeBeau, an angel-in-training sent to Earth to help mortal children, and thereby earn his wings. While on Earth, Andy was required to keep his true identity secret from all mortals.
Andy was supervised by Angelica, a mature red-haired female angel who was neither seen nor heard by mortals. She refused to accept the existence of Hornswoggle, a well-dressed demon with purple skin, black hair and a goatee, as he tried to trick Andy into making bad choices or otherwise interfere with Andy's mission.
Voice cast
Episodes
Fouled-Up Fossils / Going, Going, Gone
You Oughtta Be in Pictures / Derby Daze
Hornswoggle's Hoax / Calamity Canine
Cupid Andy / Space Odd-Essey
Hornswoggle's New Leaf / Keep on Movin' On
Mansion Madness / Wuthering Kites
In the Swim / Put Up or Fix Up
Haggle and Double Haggle / The Royal Visitor
The Future Tense / Dr. Livingston, I Presume
Haggle's Luck / Head in the Clouds
Teacher's Pest / Andy Sings the Blues
Easy Money / Take My Tonsils, Please
The Prettiest Girl in Oakville / Mack's Snow Job
Ad blocker interference detected!
Wikia is a free-to-use site that makes money from advertising. We have a modified experience for viewers using ad blockers

Wikia is not accessible if you've made further modifications. Remove the custom ad blocker rule(s) and the page will load as expected.