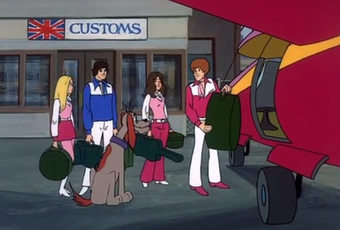 The Gold Caper is the sixth episode of Butch Cassidy and the Sundance Kids. It aired on October 13, 1973.
Plot
The kids have entered Elvis in an international dog show when Mr. Socrates calls them to report to headquarters. He tells them that for several months gold has been smuggled out of England, and sends them there to find out who's behind all this.
Ad blocker interference detected!
Wikia is a free-to-use site that makes money from advertising. We have a modified experience for viewers using ad blockers

Wikia is not accessible if you've made further modifications. Remove the custom ad blocker rule(s) and the page will load as expected.