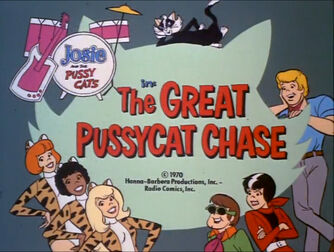 The Great Pussycat Chase is the 13th episode of Josie and the Pussycats. It aired on December 5, 1970.
Summary
In Paris, the Pussycats are entrusted with a special black box left by a secret agent. The box is desired by the Shadow and his evil henchmen, leading Josie and her friends to be pursued all around the world!
Ad blocker interference detected!
Wikia is a free-to-use site that makes money from advertising. We have a modified experience for viewers using ad blockers

Wikia is not accessible if you've made further modifications. Remove the custom ad blocker rule(s) and the page will load as expected.