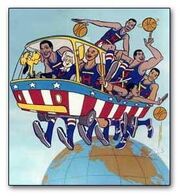 The Harlem Globetrotters
was Hanna-Barbera's first animated series to feature the slapstick basketball troupe, a co-production with
CBS
from 1970 to 1972. It was also the first animated TV series to have a primarily black cast, and one of the few animated series that CBS produced in-house. The Globetrotters' coach, Granny, and their canine mascot, Dribbles, did not appear in crossovers to
The New Scooby-Doo Movies
.
Twenty-two episodes of The Harlem Globetrotters were produced: 16 for the first season, and six more for the second season. The show was later rerun on NBC as the headline segment of Go Go Globetrotters, a Saturday morning block which also included reruns of CB Bears, Space Ghost and The Herculoids.
Voice cast
Episodes
The Great Geese Goof-Up
Football Zeros
Hold That Hillbilly
Bad News Cruise
Rodeo Duds
Double Dribble Double
Heir Loons
From Scoop to Nuts
What a Day for a Birthday
It's Snow Vacation
The Great Ouch Doors
Hooray for Hollywood
Shook-Up Sheriff
Gone to the Dogs
The Wild Blue Yonder
Long Gone Gip
A Pearl of a Game
Nothing to Moon About
Pardon My Magic
Granny's Royal Ruckus
Soccer to Me
Jungle Jitters
End credits stills
Production goofs
Continuity error: In "The Great Geese Goof-Up", near the end of the basketball game, the City All-Stars' score has mysteriously dropped from 44 points to 10 points.
See also
Ad blocker interference detected!
Wikia is a free-to-use site that makes money from advertising. We have a modified experience for viewers using ad blockers

Wikia is not accessible if you've made further modifications. Remove the custom ad blocker rule(s) and the page will load as expected.