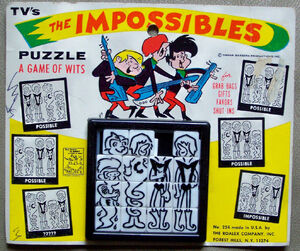 In 1966, the Roalex Company of Forest Hills, New York, made a sliding-tile puzzle depicting the Impossibles. The plastic puzzle contains 15 tiles, illustrated in black and white, depicting Coil Man, Fluid Man and two copies of Multi Man. The characters are arranged such that Fluid Man occupies a column of three tiles, and each of the others uses a column of four tiles.
Ad blocker interference detected!
Wikia is a free-to-use site that makes money from advertising. We have a modified experience for viewers using ad blockers

Wikia is not accessible if you've made further modifications. Remove the custom ad blocker rule(s) and the page will load as expected.