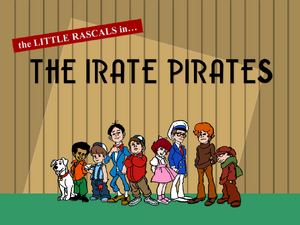 First aired: November 6, 1982
Story by: Unknown
Duration: 11 minutes
Cast
Summary
The gang discovers a treasure map, which leads them to a small island. Little do they know that they are being watched by two adult males posing as pirates all along.
Notes/Trivia
The title of this segment may have been inspired by an episode of The Ruff & Reddy Show, only this segment has a completely different storyline and its title was pluralized.
The title "Irate Pirates" was also used for an Undercover Elephant segment on CB Bears.
It is the only segment in the series in which Darla wears a bikini, which has a darker shade of pink than her usual dress. It is also the only 11-minute segment in the series that Darla does not wear her usual wardrobe throughout the segment.
Darla was seen barefoot in this entire segment. She was also seen barefoot for 4½ non-consecutive seconds in "Cap'n Spanky's Showboat", despite wearing her usual dress.
The boat the Rascals used to row to the small island was branded as the S.S. Buckwheat.
The beard and semi-dark skin tone on one of the pirates closely resembles Captain Smokey in "Cap'n Spanky's Showboat".
Ad blocker interference detected!
Wikia is a free-to-use site that makes money from advertising. We have a modified experience for viewers using ad blockers

Wikia is not accessible if you've made further modifications. Remove the custom ad blocker rule(s) and the page will load as expected.