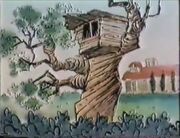 The Little Rascals' Treehouse is the official headquarters of the gang members in The Little Rascals animated series. The treehouse made its first appearance in "Yachtsa' Luck", the second segment on the premiere episode. The Rascals frequently hold meetings and hang out there.
In the original Our Gang theatrical shorts, the Rascals met in a barn or a basement of a house. The treehouse setting in the animated series may have been used just to differentiate from the original theatrical shorts to make the series more modern. Also, treehouses were commonplace in many cartoon series involving children during the early 1980s.
In "Beauty Queen for a Day", the club was branded as the discriminatory organization "The He-Man Woman Haters Club", where the boys would forbid all girls, including their friend Darla Hood, from entering the treehouse. After Darla lost a child beauty pageant, the boys felt bad for her, and wanted to cheer her up by inviting Darla back to the treehouse and celebrate her winning the title of "Queen of the He-Man Woman Haters Club" with the boys.
Appearances
Season 1
Season 2