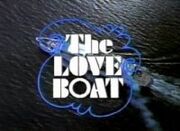 The Love Boat was an hourlong romantic comedy anthology series broadcast over ABC on Saturday evenings from 1977 to 1986. The series was set on an ocean liner, and a typical episode consisted of two or three parallel stories involving the romantic escapades of the crew and passengers. It was among the shows spoofed in Scooby Goes Hollywood, and again in the Yogi's Treasure Hunt episode "Yogi Bear on the Air".
Hanna-Barbera connections
The following guest stars on The Love Boat also performed in Hanna-Barbera projects:
Notes/trivia
External links
Ad blocker interference detected!
Wikia is a free-to-use site that makes money from advertising. We have a modified experience for viewers using ad blockers

Wikia is not accessible if you've made further modifications. Remove the custom ad blocker rule(s) and the page will load as expected.