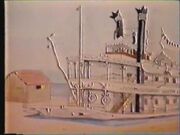 The Mississippi Queen was a famous American riverboat built by the Delta Queen Steamboat Company in 1976, when it was first launched. The riverboat was also featured in The Little Rascals animated series, in the "Cap'n Spanky's Showboat" episode. In the episode, the riverboat was not maintained after traffic was down a few years earlier, causing Captain Smokey to resign from his job. To help give the ship and Smokey's job a second life, the Rascals took on the task to refurbish the riverboat.
In real life, the Queen had its final run by 2008, was sold for scrap by May 2009, and was dismantled as early as April 2011. As in The Little Rascals, business having declined was likely the reason for the ship's demise, though it could be inferred that the looming global economic crisis of 2008 or the aftermath of Hurricane Katrina in 2005, or a combination of both factors, may have been a driving force in business having gone down.
See also
Ad blocker interference detected!
Wikia is a free-to-use site that makes money from advertising. We have a modified experience for viewers using ad blockers

Wikia is not accessible if you've made further modifications. Remove the custom ad blocker rule(s) and the page will load as expected.