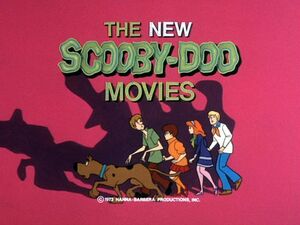 The New Scooby-Doo Movies
was the second series in the
Scooby-Doo
franchise.
Overview
The New Scooby-Doo Movies ran on CBS from 1972 to 1974. Each episode featured a different guest star helping the gang solve a mystery. Among the most notable of these guest stars were the Harlem Globetrotters, the Three Stooges, Don Knotts and Batman & Robin, each of whom appeared at least twice on the show. Hanna-Barbera musical director Hoyt Curtin composed a new theme song for this series, and Curtin's theme would remain in use for much of Scooby-Doo's original broadcast run. After two seasons and 24 episodes of the New Movies format from 1972 to 1974, the show went to reruns of the original series until Scooby moved to ABC in 1976.
Fifteen episodes of the series were released in DVD format as The Best of the New Scooby-Doo Movies, a four-disc set. The show's opening was also modified for the DVD release.
Celebrities
Characters from TV Series
Episodes
Season 1
Ghastly Ghost Town (The Three Stooges)
The Dynamic Scooby-Doo Affair (Batman & Robin)
Wednesday Is Missing (The Addams Family)*
The Frickert Fracas (Jonathan Winters)
Guess Who's Knott Coming to Dinner (Don Knotts)
A Good Medium Is Rare (Phyllis Diller)*
Sandy Duncan's Jekyll & Hyde (Sandy Duncan)*
The Secret of Shark Island (Sonny & Cher)*
The Spooky Fog (Don Knotts)
The Ghost of Bigfoot (Laurel & Hardy)
The Ghost of the Red Baron (The Three Stooges)
The Ghostly Creep from the Deep (Harlem Globetrotters)
The Haunted Horseman of Hagglethorne Hall (Davy Jones)*
The Phantom of the Country Music Hall (Jerry Reed)*
The Caped Crusader Caper (Batman & Robin)
The Loch Ness Mess (Harlem Globetrotters)
Season 2
The Mystery of Haunted Island (Harlem Globetrotters)
The Haunted Showboat (Josie and the Pussycats)*
Mystery in Persia (Jeannie & Babu)*
The Spirited Spooked Sports Show (Tim Conway)*
The Exterminator (Don Adams)
The Weird Winds of Winona (Speed Buggy)
The Haunted Candy Factory (Cass Elliot)
The Haunted Carnival (Dick Van Dyke)
An asterisk (*) indicates episodes excluded from the DVD set.
Goofs
On the intertitle card for "The Haunted Showboat", Shaggy and Scooby appear as black silhouettes, unlike other intertitles, which show Shaggy holding a flashlight and Scooby next to him.
Ad blocker interference detected!
Wikia is a free-to-use site that makes money from advertising. We have a modified experience for viewers using ad blockers

Wikia is not accessible if you've made further modifications. Remove the custom ad blocker rule(s) and the page will load as expected.