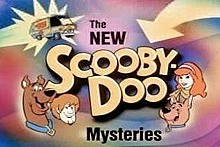 The New Scooby-Doo Mysteries is the 1984/85 series in the Scooby-Doo franchise. As in the preceding season, this series featured Scooby-Doo, Scrappy-Doo, Shaggy Rogers and Daphne Blake in the classic comedy-mystery format. Fred Jones and Velma Dinkley made guest appearances.
Voice cast
Episodes
Happy Birthday, Scooby-Doo (two parts)
The Hand of Horror/Scooby's Peephole Pandemonium
Scoo-Be or Not Scoo-Be?/The Stoney Glare Scare
Mission Un-Doo-Able/The Bee Team
Doom Service/A Code in the Nose
Ghosts of the Ancient Astronauts (two parts)
South Pole Vault/The Night of the Living Toys
A Halloween Hassle at Dracula's Castle (two parts)
Showboat Scooby/The Dooby Dooby Doo Ado
Sherlock Doo (two parts)
A Scary Duel with a Cartoon Ghoul/E*I*E*I*O
The Nutcracker Scoob (two parts)
External links
Ad blocker interference detected!
Wikia is a free-to-use site that makes money from advertising. We have a modified experience for viewers using ad blockers

Wikia is not accessible if you've made further modifications. Remove the custom ad blocker rule(s) and the page will load as expected.