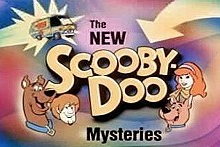 The New Scooby-Doo Mysteries is the 1984/85 series in the Scooby-Doo franchise. As in the preceding season, this series featured Scooby-Doo, Scrappy-Doo, Shaggy Rogers and Daphne Blake in the classic comedy-mystery format. Fred Jones and Velma Dinkley made guest appearances.
The opening to this series has more of a music video motif, with monsters participating in a line dance in the same fashion as Michael Jackson's "Thriller" music video, which was a 1984 cult classic.
In the series, Daphne was given a slight update - she is now bare-legged instead of wearing her traditional pink pantyhose, and her shoes are sometimes darker instead of the traditional lavender.
This series has been rebroadcast in Canada on either Teletoon or Teletoon Retro, as indicated by the "C" rating icon designated by the Government of Canada. It is unknown when it aired on either of these cable networks. It did air on ASN once a week, just after ABC aired the designated episode during the 1984-85 season.
Voice cast
Episodes
Happy Birthday, Scooby-Doo (two parts)
The Hand of Horror/Scooby's Peephole Pandemonium
Scoo-Be or Not Scoo-Be?/The Stoney Glare Stare
Mission Un-Doo-Able/The Bee Team
Doom Service/A Code in the Nose
Ghosts of the Ancient Astronauts (two parts)
South Pole Vault/The Night of the Living Toys
A Halloween Hassle at Dracula's Castle (two parts)
Showboat Scooby/The Dooby Dooby Doo Ado
Sherlock Doo (two parts)
A Scary Duel with a Cartoon Ghoul/E*I*E*I*O
The Nutcracker Scoob (two parts)
Notes/Trivia
Most syndicated rebroadcasts of Hanna-Barbera series usually have pre-opening spoilers edited out, but reruns of this series has the spoilers kept intact.
External links
Ad blocker interference detected!
Wikia is a free-to-use site that makes money from advertising. We have a modified experience for viewers using ad blockers

Wikia is not accessible if you've made further modifications. Remove the custom ad blocker rule(s) and the page will load as expected.