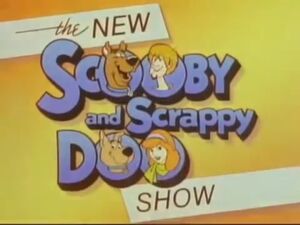 The New Scooby and Scrappy-Doo Show is the sixth series of the Scooby-Doo franchise. It ran for one season on ABC during the 1983-84 season. It aired as a half-hour program made up of 13 episodes, with two 11-minute segments per episode, though the last two episodes consisted of two-part episodes.
In the season's first cycle, there was one week in October 1983 and two weeks in November 1983 with no new episodes scheduled. It can be inferred that repeats of the first three episodes were aired in the affected weeks respectively.
Overview
For this incarnation of the show, Hanna-Barbera attempted to combine the most successful elements of both the original Scooby-Doo, Where Are You! format and the newer Scooby-Doo and Scrappy-Doo format. Daphne Blake, a character from the original Scooby-Doo, Where Are You! format, was added back to the cast after a four-year absence. The plot of each episode features her, Shaggy Rogers, Scooby-Doo and Scrappy-Doo solving supernatural mysteries under the cover of being reporters for a teen magazine. Each half-hour program was made up of two 11-minute episodes, which would upon occasion be two parts of one half-hour episode.
Cast
Broadcast History
This series was originally aired in the 11:30 a.m. ET slot until the end of 1983. In January 1984, the show moved to 9:00 a.m. ET, replacing Monchhichis, which was separated from the package show The Monchhichis/Little Rascals/Richie Rich Show, airing as a separate half hour show at 8:00 a.m. ET until its demise. Many segments from this series were rebroadcast as part of the package series Scooby's Mystery Funhouse from the fall of 1985 until early in 1986. Repeats of this series have since aired on Cartoon Network, Boomerang, and Teletoon in Canada.
This series, along with The New Scooby-Doo Mysteries, have never been released to DVD as of March 2018, although select episodes have been released as part of various DVD compilations; but ironically, the entire series The 13 Ghosts of Scooby-Doo has been released on DVD.
Notes/Trivia
This may have been the last Scooby-Doo series to use traditional cel animation and appear to be recorded on a filmstrip, popularly used until the early 1980s. The New Scooby-Doo Mysteries, which would be considered a second season of this series, likely involved computer animation.
Episode guide
| Ep. # | ABC Airdate | Segment Titles |
| --- | --- | --- |
| 1 | September 10, 1983 | "Scooby the Barbarian"/"No Sharking Zone" |
| 2 | September 10, 1983 | "Scoobygeist"/"The Quagmire Quake Caper" |
| 3 | September 17, 1983 | "Hound of the Scoobyvilles"/"The Dinosaur Deception" |
| 4 | September 17, 1983 | "The Creature Came from Chem Lab"/"No Thanks, Masked Manx" |
| 5 | September 24, 1983 | "Scooby of the Jungle"/"Scooby-Doo and Cyclops, Too" |
| 6 | October 1, 1983 | "Scooby Roo"/"Scooby's Gold Medal Gambit" |
| 7 | October 8, 1983 | "Wizards and Warlocks"/"Scoobsie" |
| 8 | October 15, 1983 | "The Mark of Scooby"/"The Crazy Carnival Caper" |
| 9 | October 29, 1983 | "Scooby and the Minotaur"/"Scooby Pinch Hits" |
| 10 | November 5, 1983 | "The Fall Dog"/"The Scooby Coupe" |
| 11 | November 26, 1983 | "Who's Minding the Monster?"/"Scooby a la Mode" |
| 12 | December 3, 1983 | "Where's Scooby Doo?" (2 parts) |
| 13 | December 10, 1983 | "Wedding Bell Boos!" (2 parts) |