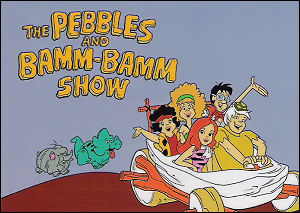 The Pebbles and Bamm-Bamm Show is a 30-minute Saturday morning animated spin-off of The Flintstones, which ran for 16 episodes from September 11, 1971, to September 2, 1972, on CBS.
The show followed Pebbles Flintstone and Bamm-Bamm Rubble in their teenage years as girlfriend and boyfriend. The episodes were set mainly in the duo's activities at Bedrock High School with their friends Moonrock, Penny, Wiggy, Cindy (Pebbles' rival) and her boyfriend Fabian, Bad Luck Schleprock and a motorcycle gang called the Bronto Bunch (Bronto, Noodles, Stub and Zonk). Fred, Wilma, Barney and Betty were also featured on the show in supporting roles.
Voice cast
Credits
Produced and Directed by: Joseph Barbera and William Hanna
Associate Producer: Alex Lovy
Story Editors: Joe Ruby and Ken Spears
Story: Neal Barbera, Walter Black, Larz Bourne, Tom Dagenais, Bob Ogle, Larry Rhine, Richard Robbins
Story Direction: Brad Case, Carl Fallberg, Cullen Houghtaling, Alex Lovy, Lew Marshall, Paul Sommer, Irv Spector
Voices: Mel Blanc, Carl Esser, Gay Hartwig, Mitzi McCall, Don Messick, Jay North, Alan Reed, John Stephenson, Sally Struthers, Jean Vander Pyl, Lenny Weinrib
Animation Director: Charles A. Nichols
Production Design: Iwao Takamoto
Production Supervisor: Victor O. Schipek
Character Design: Jerry Eisenberg
Layout: Dick Bickenbach, Jack Huber, John Ahren, Pete Alvarado, Bruce Bushman, Brad Case, Don Sheppard, Bob Singer, Mike Arens, Mo Gollub, Stan Green, Alex Ignatiev, George Wheeler
Animation: Bill Keil, Ed Aardal, Steve Clark, Lillian Evans, George Kreisl, Margaret Nichols, Jay Sarbry, Irven Spence, Lefty Callahan, Rudy Cataldi, John Garling, Hicks Lokey, Joan Orbison, Ken Southworth, Xenia
Backgrounds: F. Montealegre, Lorraine Andrina, Martin Forte, Gary Niblett, Al Gmuer, Gino Giudice, Richard Khim, Peter Van Elk
Titles: Iraj Paran
Musical Directors: Hoyt Curtin, Ted Nichols
Technical Supervisor: Frank Paiker
Ink & Paint Supervisor: Roberta Greutert
Xerography: Robert "Tiger" West
Sound Direction: Richard Olson, Bill Getty
Editorial Supervision: Larry Cowan
Music Editor: Richard Allen
Effects Editors: Milton Krear, Ron Fedele
Sound Reader: Peter Aries, Jr.
Negative Consultant: William E. DeBoer
Post Production: Joed Eaton
Camera: Charles Flekal, George Epperson, Roy Wade, Dick Blundell
A Hanna-Barbera Production
This picture made under the jurisdiction of IATSE-IA, Affiliated with A.F.L.-C.I.O.-C.L.C.
RCA Sound Recording
© 1971 Hanna-Barbera Productions, Inc.
Episodes
Gridiron Girl Trouble
Putty in Her Hands
Frog for a Day
The Golden Voice
Daddy's Little Helper
Focus Foolery
Pebbles' Big Boast
The Grand Prix Pebbles
The Terrible Snorkasaurus
Schleprock's New Image
Coach Pebbles
No Cash and Carry
Woolly the Great
Mayor May Not
They Went That-a-Way
The Birthday Present