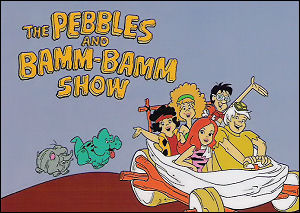 The Pebbles and Bamm-Bamm Show is a 30-minute Saturday morning animated spin-off of The Flintstones, which ran for 16 episodes from September 11, 1971, to September 2, 1972, on CBS.
The show followed Pebbles Flintstone and Bamm-Bamm Rubble in their teenage years as girlfriend and boyfriend. The episodes were set mainly in the duo's activities at Bedrock High School with their friends Moonrock, Penny, Wiggy, Cindy (Pebbles' rival) and her boyfriend Fabian, Bad Luck Schleprock and a motorcycle gang called the Bronto Bunch (Bronto, Noodles, Stub and Zonk). Fred, Wilma, Barney and Betty were also featured on the show in supporting roles.
Voice cast
Episodes
Gridiron Girl Trouble
Putty in Her Hands
Frog for a Day
The Golden Voice
Daddy's Little Helper
Focus Foolery
Pebbles' Big Boast
The Grand Prix Pebbles
The Terrible Snorkasaurus
Schleprock's New Image
Coach Pebbles
No Cash and Carry
Woolly the Great
Mayor May Not
They Went That-a-Way
The Birthday Present
Ad blocker interference detected!
Wikia is a free-to-use site that makes money from advertising. We have a modified experience for viewers using ad blockers

Wikia is not accessible if you've made further modifications. Remove the custom ad blocker rule(s) and the page will load as expected.