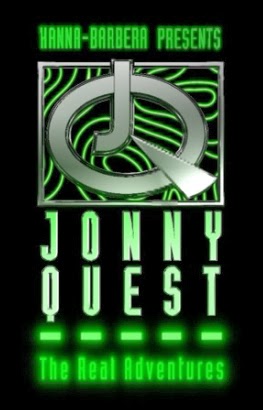 The Real Adventures of Jonny Quest, also known as Jonny Quest: The Real Adventures, is Cartoon Network's mid-1990s revival of Jonny Quest. Besides Jonny and his team, the cast includes Jessie Bannon, daughter of Race Bannon, and Jeremiah Surd, a recurring villain who is confined to a wheelchair.
The series is rendered in traditional cel animation, except for scenes set in Questworld, a virtual-reality realm represented by 3D CGI animation.
Voice cast
Michael Benyaer as Hadji Quest-Singh (24 episodes)
Earl Boen as Dr. Forbes
Darleen Carr as Abby
Megan Cavanagh as Julia (six episodes)
John de Lancie as Dr. Benton C. Quest (17 episodes)
Jesse Douglas as Jessie Bannon (18 episodes)
Paul Eiding as Bennett
Quinton Flynn as Jonny Quest (25 episodes)
Robert Foxworth as Roger T. "Race" Bannon (14 episodes)
Ed Gilbert as Badur
Jennifer Hale as Jessie Bannon (20 episodes)
Clyde Kusatsu as Dr. Zin
Nancy Linari as Julia (six episodes)
Jim Meskimen as a Black Jack Lee impostor
Robert Patrick as Roger T. "Race" Bannon (24 episodes)
Rob Paulsen as Hadji Quest-Singh (21 episodes)
J.D. Roth as Jonny Quest (25 episodes)
George Segal as Dr. Benton C. Quest (24 episodes)
Granville Van Dusen as Roger T. "Race" Bannon (six episodes)
B. J. Ward as Iris the computer
Frank Welker as Bandit and Jeremiah Surd
Episodes
Season 1
The Darkest Fathoms
Escape to Questworld
In the Realm of the Condor
Rage's Burning Wheel
Ndovu's Last Journey
Manhattan Maneater
East of Zanzibar
Assault on Questworld
Ezekiel Rage
Alien in Washington
Return of the Anasazi
The Alchemist
Trouble on the Colorado
In the Wake of the Mary Celeste
AMOK
Besieged in Paradise
The Spectre of the Pine Barrens
Heroes
The Ballad of Belle Bonnet
In the Darkness of the Moon
The Secret of the Moai
Expedition to Khumbu
Ice Will Burn
Future Rage
Alligators and Okeechobee Vikings
To Bardo and Back
Season 2
The Mummies of Malenque
Rock of Rages
Bloodlines
Race Against Danger
The Dark Mountain
Cyberswitch
Undersea Urgency
Nemesis
DNA Doomsday
Ghost Quest
Nuclear Netherworld
Eclipse
Without a Trace
Village of the Doomed
Dark Sentinel
Other Space
Digital Doublecross
Thoughtscape
The Bangalore Falcon
Diamonds and Jade
The Edge of Yesterday
The Haunted Sonata
General Winter
Night of the Zinja
The Robot Spies
More than Zero
DVD releases
Three DVD sets of The Real Adventures of Jonny Quest have been released by Warner Archive:
Season 1, Volume 1: 13 episodes on February 17, 2009
Season 1, Volume 2: 13 episodes on March 27, 2012
The Complete Second Season: 26 episodes on November 10, 2015
External links
Ad blocker interference detected!
Wikia is a free-to-use site that makes money from advertising. We have a modified experience for viewers using ad blockers

Wikia is not accessible if you've made further modifications. Remove the custom ad blocker rule(s) and the page will load as expected.