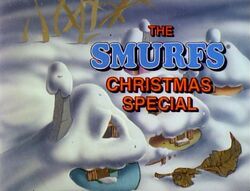 The Smurfs' Christmas Special was produced by Hanna-Barbera for NBC in 1982.
Plot
The Smurfs come to the rescue of two children and their grandfather when an evil mysterious stranger shows up and causes their sleigh to turn over, forcing them to seek help and inadvertently bring Gargamel in on the action.
Voice cast
Ad blocker interference detected!
Wikia is a free-to-use site that makes money from advertising. We have a modified experience for viewers using ad blockers

Wikia is not accessible if you've made further modifications. Remove the custom ad blocker rule(s) and the page will load as expected.