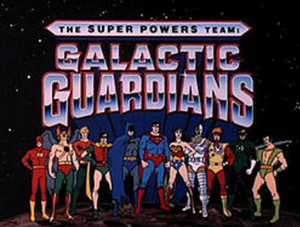 The Super Powers Team: Galactic Guardians was the last series in Hanna-Barbera's Superfriends franchise. The show was so titled as a tie-in to a line of "Super Powers" action figures. Its animation style was more realistic than the classic Alex Toth models, thanks to the talent of DC Comics artist José García-López, and the stories were less campy than in previous series.
Only eight half-hour episodes were produced, for a total of 10 stories. The entire series is now available on DVD from Warner Home Video.
Voice cast
Episodes
The Seeds of Doom
The Ghost Ship / The Bizarro Super Powers Team
The Darkseid Deception
The Fear
The Wild Cards
The Brainchild / The Case of the Stolen Powers
Escape from Space City
The Death of Superman
External links
Ad blocker interference detected!
Wikia is a free-to-use site that makes money from advertising. We have a modified experience for viewers using ad blockers

Wikia is not accessible if you've made further modifications. Remove the custom ad blocker rule(s) and the page will load as expected.