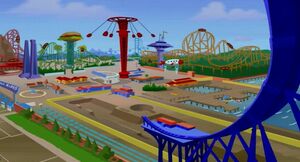 Thrill Ride Park is an amusement park in the What's New, Scooby-Doo? episode "Roller Ghoster Ride". It was built by sisters Chris and Terry.
Employees
Only four employees are known: Chris and Terry, the sisters who founded the park; Sam, the park's safety engineer, and an unnamed ticket taker.
History
Shaggy Rogers and Scooby-Doo won a roller coaster design contest at Thrill Ride Park with their entry, All You Can Hurl. When they went to the park, they encountered the Roller Ghoster, who was causing mischief and danger.
External links
Ad blocker interference detected!
Wikia is a free-to-use site that makes money from advertising. We have a modified experience for viewers using ad blockers

Wikia is not accessible if you've made further modifications. Remove the custom ad blocker rule(s) and the page will load as expected.