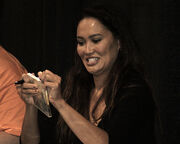 Tia Carrere
(born Althea Rae Duhinio Janairo, January 2, 1967, in Honolulu) is an American actress and model. She was the voice of Snookie in
Aloha, Scooby-Doo!
.
Biography
Tia Carrere was born Althea Rae Duhinio Janairo in Honolulu. She is the eldest of three sisters and two half-sisters. While attending Sacred Hearts Academy school for girls, Tia was discovered in a Waikiki grocery store and landed the female lead in the indie movie Aloha Summer (1988). Although her passion has always been singing (grandmother Rae took Tia to her first singing lesson at age 10), Tia would continue her ascent in the acting world with a regular stint on General Hospital (1963) as Jade Soong and a string of co-starring roles on MacGyver (1985), Quantum Leap (1989) and Friday's Curse (1987), among others.
It wasn't until her breakthrough role as Cassandra Wong in the Wayne's World films that Tia was able to showcase both her singing and acting chops. Wayne's World was a worldwide phenom and set the stage for her villainous Juno Skinner in True Lies (1994), opposite Arnold Schwarzenegger; computer whiz Jingo Asakuma in Rising Sun (1993), opposite Sean Connery, and her own series lead of Sydney Fox on Relic Hunter (1999). Her other TV work has included appearing on the 2007 season premiere of Nip/Tuck (2003), on Kelsey Grammer's Back to You (2007), and recurring as Cha Cha on HBO's Curb Your Enthusiasm (1999).
Tia returned to her Hawaiian roots with her voice work on Disney's Lilo & Stitch films and series, as well as her Grammy-nominated CD "hawaiiana".
External links
Ad blocker interference detected!
Wikia is a free-to-use site that makes money from advertising. We have a modified experience for viewers using ad blockers

Wikia is not accessible if you've made further modifications. Remove the custom ad blocker rule(s) and the page will load as expected.