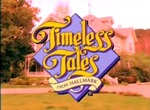 Timeless Tales from Hallmark is a series of animated fairy tale adaptations produced by Hanna-Barbera and Hallmark Cards. Eight half-hour stories were produced for VHS distribution in 1990 and 1991.
Live-action cast
Voice cast
Episodes
Transcript
Trivia
Olivia Newton-John used the project to promote environmental awareness among children. The original home videocassettes included an eight-page booklet about fairy tales with kid-friendly tips for saving the earth. This and the video packaging were both printed on recycled paper
External links
Ad blocker interference detected!
Wikia is a free-to-use site that makes money from advertising. We have a modified experience for viewers using ad blockers

Wikia is not accessible if you've made further modifications. Remove the custom ad blocker rule(s) and the page will load as expected.