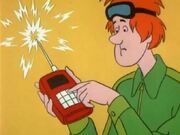 Tinker
is the mechanic, driver, and best friend of
Speed Buggy
.
Physical appearance
Tinker wears racing goggles, pushed up from his face. His hair is usually messy.
Personality
He is somewhat like Gomer Pyle and speaks like him, including saying "Gol-lee!" when surprised.
Laff-A-Lympics
He is a member of the Scooby Doobies, along with Speed Buggy. His crime-solving friends, Debbie and Mark, are not.
Ad blocker interference detected!
Wikia is a free-to-use site that makes money from advertising. We have a modified experience for viewers using ad blockers

Wikia is not accessible if you've made further modifications. Remove the custom ad blocker rule(s) and the page will load as expected.