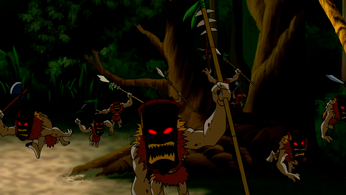 The Tiny Tikis appear in Aloha, Scooby-Doo!. They are small robots remotely controlled by Snookie Waeawa.
History
The Tiny Tikis first kidnapped Snookie Waeawa, then later tried to kidnap the Mystery Inc. gang, but they escaped. In the end, it was revealed that they were actually robots controlled by the kidnapped Snookie.
Soon, it looked like the Tiny Tikis really had come to life and were about to chase the gang, but instead of trying to capture them, they broke into a hula dance, being controlled by Scooby-Doo.
External links
Ad blocker interference detected!
Wikia is a free-to-use site that makes money from advertising. We have a modified experience for viewers using ad blockers

Wikia is not accessible if you've made further modifications. Remove the custom ad blocker rule(s) and the page will load as expected.