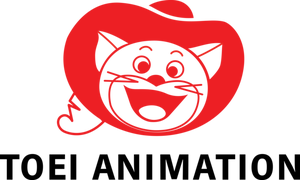 Tōei Animation is a Japanese animation studio. It dubbed certain Hanna-Barbera cartoons into Japanese for broadcast over TVTokyo.
History
Tōei Co., Ltd. (Tôei Dôga in Japanese) is a Japanese film and television production and distribution corporation. The name "Toei" is derived from the company's former name "Tōkyō Eiga Haikyū" (Tokyo Film Distribution Company). Based in Tokyo, Tōei owns and operates studios at Tokyo and Kyoto, owns movie theaters across Japan and is a stockholder in several television companies.
In 1956, Tōei acquired Tokyo-Ōizumi animation studio and renamed it Tōei Animation Company.
Cartoons dubbed by Tōei
External links
Ad blocker interference detected!
Wikia is a free-to-use site that makes money from advertising. We have a modified experience for viewers using ad blockers

Wikia is not accessible if you've made further modifications. Remove the custom ad blocker rule(s) and the page will load as expected.