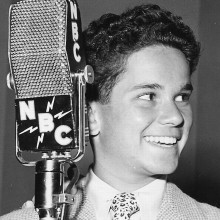 Tommy Cook (born July 5, 1930, in Duluth, Minnesota) is an American actor. He was the voice of Biff Starke on Jabberjaw.
Biography
Spry, curly-haired, dark-complexioned child actor Tommy Cook's most famous roles happened during his nascent career in serial adventures. He came on the feature film scene auspiciously in the role of young Indian boy Little Beaver alongside western good guy Don "Red" Barry in The Adventures of Red Ryder (1940), and followed that portraying Kimbu, the young jungle boy, alongside Frances Gifford's heroine Nyoka in Jungle Girl (1941).
Tommy's father was stricken with Bright's disease, a kidney ailment, which forced the family (which included a sister and grandmother) to seek warmer climate. In California, his mother inspired him toward theatrics, and he gained entry at the Pasadena Playhouse, where he stayed for seven years. Due to his natural talent, radio jobs soon cropped up for the youngster.
After appearing in a couple of short films for MGM and RKO, Tommy auditioned for and won the role of Little Beaver in the 12-chapter Red Ryder cliffhanger at Republic. He also played the role on radio. On screen, Tommy had to learn to ride a horse bareback (star Don Berry also had to learn to ride). While these first two roles were prominent parts that could have insured youthful stardom, it didn't.
Tommy continued in films in both highly visible and unbilled parts. The former included active roles in Good Luck, Mr. Yates (1943); Hi, Buddy (1943); as Kimba, the Leopard Boy in Tarzan and the Leopard Woman (1946) with Johnny Weissmuller and Brenda Joyce; a Filipino in American Guerrilla in the Philippines (1950) starring Tyrone Power, and lead delinquent in the sub-par propaganda film Teen-Age Crime Wave (1955). More or less typed in exotic parts, his characters usually had dead giveaway names: Paco, Salim, Ponca, Mario, Chito, Pablo, Little Elk and Keoga among them. His transition from child to adult actor was rocky and eventually his career dissipated. Though he was a brawny, good-looking man, his short stature may have figured into the problem.
Tommy's days as a standout junior tennis player on the Southern California circuit eventually led to an entirely new existence in mid-life as a respected organizer (host/producer/director) of celebrity gala/charity events. Tommy has two children.
External links
Ad blocker interference detected!
Wikia is a free-to-use site that makes money from advertising. We have a modified experience for viewers using ad blockers

Wikia is not accessible if you've made further modifications. Remove the custom ad blocker rule(s) and the page will load as expected.