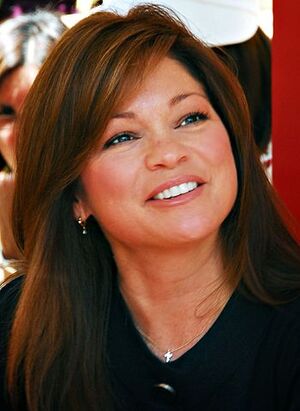 Valerie Anne Bertinelli (born April 23, 1960, in Wilmington, Delaware) is an American comic actress, best known for playing Barbara Cooper Royer on the CBS sitcom One Day at a Time. She played Casey Norton in C.H.O.M.P.S.
Biography
The only daughter of a General Motors executive, Valerie Bertinelli was born in Wilmington, Delaware, and raised with one older brother and two younger brothers. The family traveled through so many cities that she still calls herself a "GM brat".
At 14, Bertinelli got the idea that she would like to do some acting. "I did one commercial, for J.C. Penney," she says, "and did nothing else for months. Then, I got a call for One Day at a Time (1975). Everyone at home was jubilant when the show went on the air." But the young actress' mood darkened when she realized that she had to work and go to school, as well. Her high school graduation in 1978 was "a real relief".
In the 1980s, Bertinelli was offered several movie roles, but turned some of them down because she objected to the gratuitous nudity. She has a home in Los Angeles and a production company (named Tuxedo Limited after one of the stray cats she's always taking in).
External links
Ad blocker interference detected!
Wikia is a free-to-use site that makes money from advertising. We have a modified experience for viewers using ad blockers

Wikia is not accessible if you've made further modifications. Remove the custom ad blocker rule(s) and the page will load as expected.