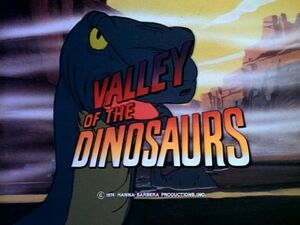 Valley of the Dinosaurs was an animated adventure series produced by Hanna-Barbera for CBS in 1974.
Plot
While whitewater rafting in an unexplored river canyon deep in the heart of the Amazon, the Butler family was sucked down a violent whirlpool, propelled into an underground cavern and flung into a hostile world of giant reptiles, a world time had forgotten. Now, befriended by a family of cave dwellers, the Butler family finds that each day is an adventure in survival.
Voice cast
Episodes
Forbidden Fruit
What Goes Up
A Turned Turtle
Smoke Screen
The Volcano
Pteranodon
The Sabertooth Kids
After Shock
Top Cave Please
S.O.S.
Fire
Rain of Meteors
To Fly a Kite
Test Flight
The Big Toothache
Torch
Ad blocker interference detected!
Wikia is a free-to-use site that makes money from advertising. We have a modified experience for viewers using ad blockers

Wikia is not accessible if you've made further modifications. Remove the custom ad blocker rule(s) and the page will load as expected.