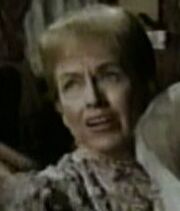 Virginia Gregg
(born Virginia Gregg Burket, March 6, 1916–September 15, 1986) was an American radio and television actress, best known as Tara on
The Herculoids
, a role she reprised on
Space Stars
. Her other voice roles for Hanna-Barbera included Mrs. Claus in
A Flintstone Family Christmas
and Aunt Dele in
Heidi's Song
.
Biography
Virginia Gregg was one of the busiest radio actors in the business, with regular appearances on such programs as Dragnet, Nightbeat and The Lone Ranger. She had extremely wide range, playing any female character. She was radio's female equivalent to William Conrad, Ben Wright and Elliott Lewis.
Before becoming a radio actress, the 5-foot, 9-inch Gregg played bass viola with the Pasadena Symphony and was a member of the Singing Strings.
External links
Ad blocker interference detected!
Wikia is a free-to-use site that makes money from advertising. We have a modified experience for viewers using ad blockers

Wikia is not accessible if you've made further modifications. Remove the custom ad blocker rule(s) and the page will load as expected.