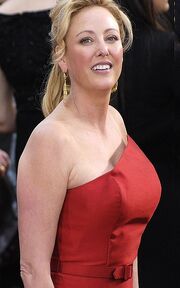 Virginia Madsen
(born September 11, 1961, in Chicago) is an American actress. She was the voice of Cleopatra in
Scooby-Doo! in Where's My Mummy?
.
Biography
One of the hottest stars of the mid-1980s, Virginia Madsen is one of Hollywood's most talented actresses. Voted as one of the most beautiful actresses in 1986, Virginia has had several excellent performances in her career thus far. Audiences first caught a glimpse of her as Princess Irulan in the 1984 science fiction epic Dune. She followed that up with Electric Dreams, also released in 1984.
However, it was in 1986 that Virginia Madsen captured the hearts of the audience with an intense portrayal of a Catholic school girl who fell in love with a boy from a prison camp in Duncan Gibbins' Fire with Fire (1986). Virginia played the role of Lisa and her co-star was Craig Sheffer, who played Lisa's love interest, Joe Fisk. Kari Wuhrer also made an appearance as Virginia's best friend, Gloria. Fire with Fire was a low-budget production, starring a bunch of fresh faces who were till then unknown to Hollywood. However, the movie was a success and elevated its three young stars overnight. Virginia has never looked back since.
External links
Ad blocker interference detected!
Wikia is a free-to-use site that makes money from advertising. We have a modified experience for viewers using ad blockers

Wikia is not accessible if you've made further modifications. Remove the custom ad blocker rule(s) and the page will load as expected.