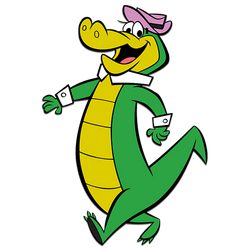 Wally Gator is an anthropomorphic alligator, star of one of the segments, named like him, from The Hanna-Barbera New Cartoon Series. The other segments are Lippy the Lion & Hardy Har Har and Touché Turtle and Dum Dum. The segment consisted of 52 episodes over two seasons.
His "birthday" is September 22nd.
Plot
Wally Gator is more comfortable when he is at home, in the city zoo. Mr. Twiddle is the zookeeper who keeps a close watch on Wally because sometimes he escapes to check out what things are like outside.
Cast
Wally Gator filmography
Television
Films and television specials
Guest appearances
Casting history
Gallery
External links
Ad blocker interference detected!
Wikia is a free-to-use site that makes money from advertising. We have a modified experience for viewers using ad blockers

Wikia is not accessible if you've made further modifications. Remove the custom ad blocker rule(s) and the page will load as expected.