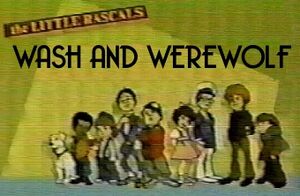 First aired: September 10, 1983
Story by: Unknown
Duration: 11 minutes
Cast
Summary
The boys are anxious to see a 3-D horror movie, but Darla leaves the theater before the feature starts. The next day, something causes Alfalfa to resemble a werewolf.
Notes/Trivia
This was the first new episode of the second season of the series.
In the title card, the story writers' credit is moved from above the Rascals' heads to the stage floor. This would be a regular trend for all of the new Season 2 episodes.
Clips from this episode were seen in ABC's Saturday-morning preview special aired on September 4, 1983.
Ad blocker interference detected!
Wikia is a free-to-use site that makes money from advertising. We have a modified experience for viewers using ad blockers

Wikia is not accessible if you've made further modifications. Remove the custom ad blocker rule(s) and the page will load as expected.