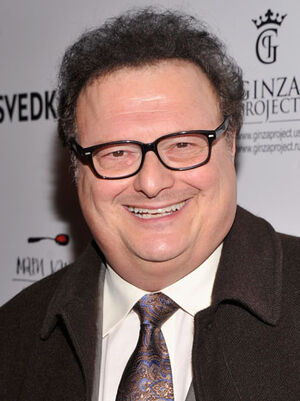 Wayne Eliot Knight (born August 7, 1955, in New York City) is an American actor, voice artist, and comedian. He was the voice of the Amazing Krudsky in Scooby-Doo! and the Goblin King.
Biography
Actor Wayne Knight achieved television immortality assaying the role of the frenetic mailman "Newman", nemesis of the eponymous lead character in the classic NBC series Seinfeld (1990). He also appeared in Jurassic Park (1993) as "Dennis Nedry" and in one of the most notorious scenes in American cinema, as one of the detectives interrogating Sharon Stone during her leg-crossing in Basic Instinct (1992).
Knight was born in New York City on August 7, 1955, and moved as an infant to Cartersville, Georgia, where he was raised and lived until attending the University of Georgia in 1972. Despite being an honor student, Knight left school before graduating to join the Barter Theatre company in Abingdon, Virginia. He finally secured his bachelor of fine arts degree in 2008. After an internship of two years, Wayne was hired for the professional company and earned his Equity card. Now a professional actor, Knight moved back to New York, where he made his Broadway debut, at 23, in the long-running comedy Gemini in 1979. Through the years, he has established himself as a leading character actor in television (as a regular or recurring character in seven series), film (ranging from Dirty Dancing [1987] to JFK [1991]), on the stage, and as a voice artist in animation.
In TV Land's original sitcom The Exes (2011), Knight plays homebody Haskell Lutz, who lives in an apartment with Phil (Donald Faison) and Stuart (David Alan Basche), right across the hall from his divorce attorney, Holly (Kristen Johnston).
External links