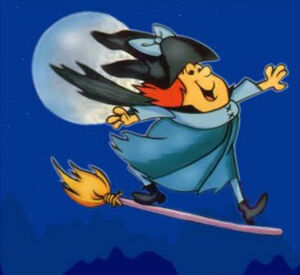 Winsome W. Witch (voiced by Jean Vander Pyl whose character is also called "Winnie") is a friendly, yet somewhat inept, witch. Winnie's catch phrase when casting a spell was "Ippity - Pippity - Pow!" (when the magic spell conjures, the Jet Screamer entrance cue from The Jetsons, is heard). She often flies around on a broom that happens to be magically alive.
Her segment aired alongside Secret Squirrel and Squiddly Diddly on The Atom Ant/Secret Squirrel Show.
Ad blocker interference detected!
Wikia is a free-to-use site that makes money from advertising. We have a modified experience for viewers using ad blockers

Wikia is not accessible if you've made further modifications. Remove the custom ad blocker rule(s) and the page will load as expected.