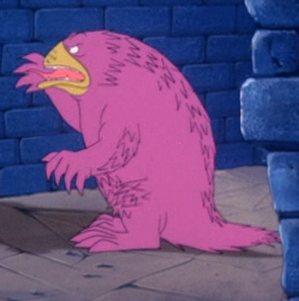 The Yadzruck is a magical monster appearing in "Wizards and Warlocks", an episode of The New Scooby and Scrappy-Doo Show. Scooby-Doo and Shaggy Rogers had to face it as part of the Tower Wizard's challenge.
Physical appearance
The Yadzruck is bipedal. It has purple scales and a yellow beak.
Powers and abilities
The Yadzruck has the power of spontaneous growth. If it is not given the correct magic words, the creature grows, and it continues to grow with each incorrect attempt.
External links
Ad blocker interference detected!
Wikia is a free-to-use site that makes money from advertising. We have a modified experience for viewers using ad blockers

Wikia is not accessible if you've made further modifications. Remove the custom ad blocker rule(s) and the page will load as expected.