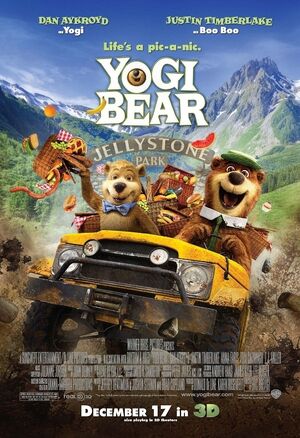 Yogi Bear is a live action/CGI hybrid film released in 2010 by Warner Bros. Pictures, based on the Yogi Bear cartoon series. It features the voices of Dan Aykroyd as Yogi and Justin Timberlake as Boo Boo.
Plot
A documentary filmmaker travels to Jellystone Park to shoot a project. She soon crosses paths with Yogi Bear, his sidekick Boo Boo, and Ranger Smith.
Partial cast
Dan Aykroyd as the voice of Yogi Bear
Tom Cavanagh as Ranger Smith
Nate Corddry as the chief of staff
Andrew Daly as Mayor Brown
Anna Faris as Rachel
Matilda Fulljames as a picnic guest (uncredited)
Matt Gillanders as a ranger on stilts (uncredited)
Tom Kay as a park visitor (uncredited)
T.J. Miller as Ranger Jones
Christy Quiliam as the stylist
David Stott as the mayor's tailor
Josh Robert Thompson as the narrator
Justin Timberlake as the voice of Boo Boo
See also
External links
Ad blocker interference detected!
Wikia is a free-to-use site that makes money from advertising. We have a modified experience for viewers using ad blockers

Wikia is not accessible if you've made further modifications. Remove the custom ad blocker rule(s) and the page will load as expected.