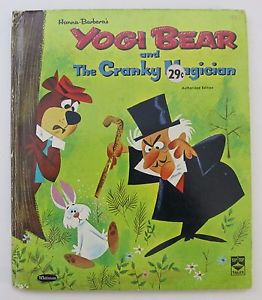 Yogi Bear and the Cranky Magician is a 1963 children's book starring Yogi Bear.
Publication details
Publisher: Whitman Publishing
Binding: Hardcover
Dimensions: 7.3 × 6.2 × 0.4 inch
Author: William Johnston
Illustrator: Mel Crawford
Plot
An evil magician causes trouble in Jellystone Park by using his magic cane to make things vanish.
Notes/trivia
The book's villain, Abner K. Dabra, was allegedly the inspiration for the Great Fondoo, a member of the Really Rottens in Scooby's All-Star Laff-a-Lympics.
Mel Crawford's illustrations show Yogi wearing a red hat, rather than the green hat he wears in the TV cartoons.
External links
Ad blocker interference detected!
Wikia is a free-to-use site that makes money from advertising. We have a modified experience for viewers using ad blockers

Wikia is not accessible if you've made further modifications. Remove the custom ad blocker rule(s) and the page will load as expected.