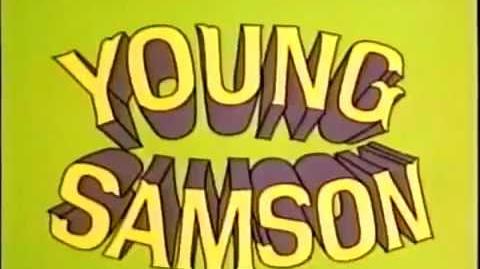 Young Samson
(aka
Samson and Goliath
or
Young Samson and Goliath
) is one of the superhero shows created by Alex Toth for Hanna-Barbera in 1967. The series focused on a 14-year-old boy (voice of
Tim Matheson
) and his dog, who traveled around the world on the boy's scooter. Whenever a supervillain, mad scientist or giant monster showed up and menaced an area, Samson slammed his bracelets together and became a superhero version of his biblical namesake, and a second slam would turn his dog, Goliath, into a massive lion.
In the backup segment, Space Kidettes, a group of children and their dog traveled through space. Their pursuers were the space pirate Captain Skyhook (Daws Butler) and his henchman, Static (Don Messick). The captain believed that the children possessed a treasure map, and was determined to take it from them.
Powers
Samson's superhero form possesses superhuman strength, endurance, agility and reflexes. He can also leap so well, that he gives off the illusion of flight, and shoot energy beams or shock waves from his hands.
Goliath's lion form posses the same powers. Instead of energy blasts, he projects heat beams from his eyes, and possesses a roar powerful enough to cause a cave-in.
Whenever an opponent proves too powerful, Samson twists his bracelets to access "Super Samson Power" to increase his and Goliath's powers.
Episodes
The Curse of Monatabu
The Aurora Borealis Creature
The Great Colossus
Cold Wind from Venus
The SSK-19
Operation Peril
The Secret of Evil Island
The Monsteroids
The Idol Rama-Keesh
Salamandro
Baron Von Skull
Moon Rendezvous
The Lost City of the Dragon Men
The Colossal Coral Creature
Zuran's Creature
The Dome
Nerod
The Terrible Dr. Desto
From Out of the Deep
Thing from the Black Mountains
Ad blocker interference detected!
Wikia is a free-to-use site that makes money from advertising. We have a modified experience for viewers using ad blockers

Wikia is not accessible if you've made further modifications. Remove the custom ad blocker rule(s) and the page will load as expected.